As our store has been in business for decades, we've processed several hundreds of orders while ceaselessly trying to find beautiful oriental furniture pieces to make your house a home.
While some products fall into the 'come-and-go' category, we've also noticed that certain pieces and styles are always asked about and become our clients' favorite throughout the years.
In this month's article, let's revisit some of Yesterday Once Again's bestsellers, the stories behind them, and some decoration tips from us!
1.Wedding Cabinets: normally referred to a style of oriental cabinet with two doors, decorated with metal medallion, locks, and handles in the middle. But just to be clear: the so-called 'Chinese wedding cabinet' is a Western term, possibly getting mixed up with traditional 'wedding chest or嫁箱jià xiāng' packed with precious dowries (among which were clothes and furs) and sent along with the bridal procession to her new residence.
Once arrived at the groom's house, the new wife would be designated to a room, and she would have a proper lady's cabinet to store her garments and accessories.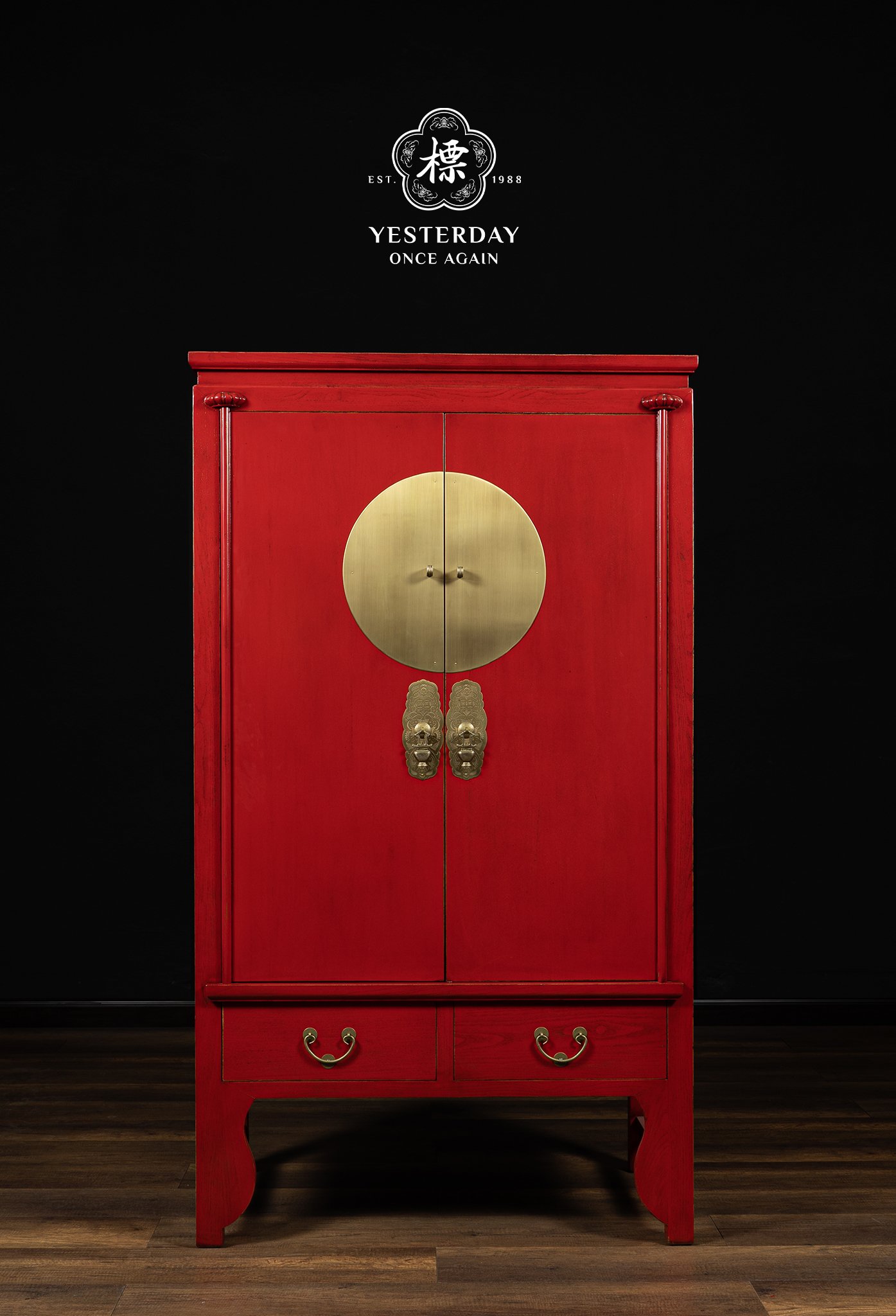 The wedding cabinets shown in our photos are the style that's called 'square corner cabinets' (方角柜fāng jiǎo guì) in which the four corners and table legs were made to be square – in contrast with the round corner style (圆角柜yuán jiǎo guì).
Their decorative elements also point towards a joyous married life with red color and a serene, tranquil life with a landscape motif with the lacquered one.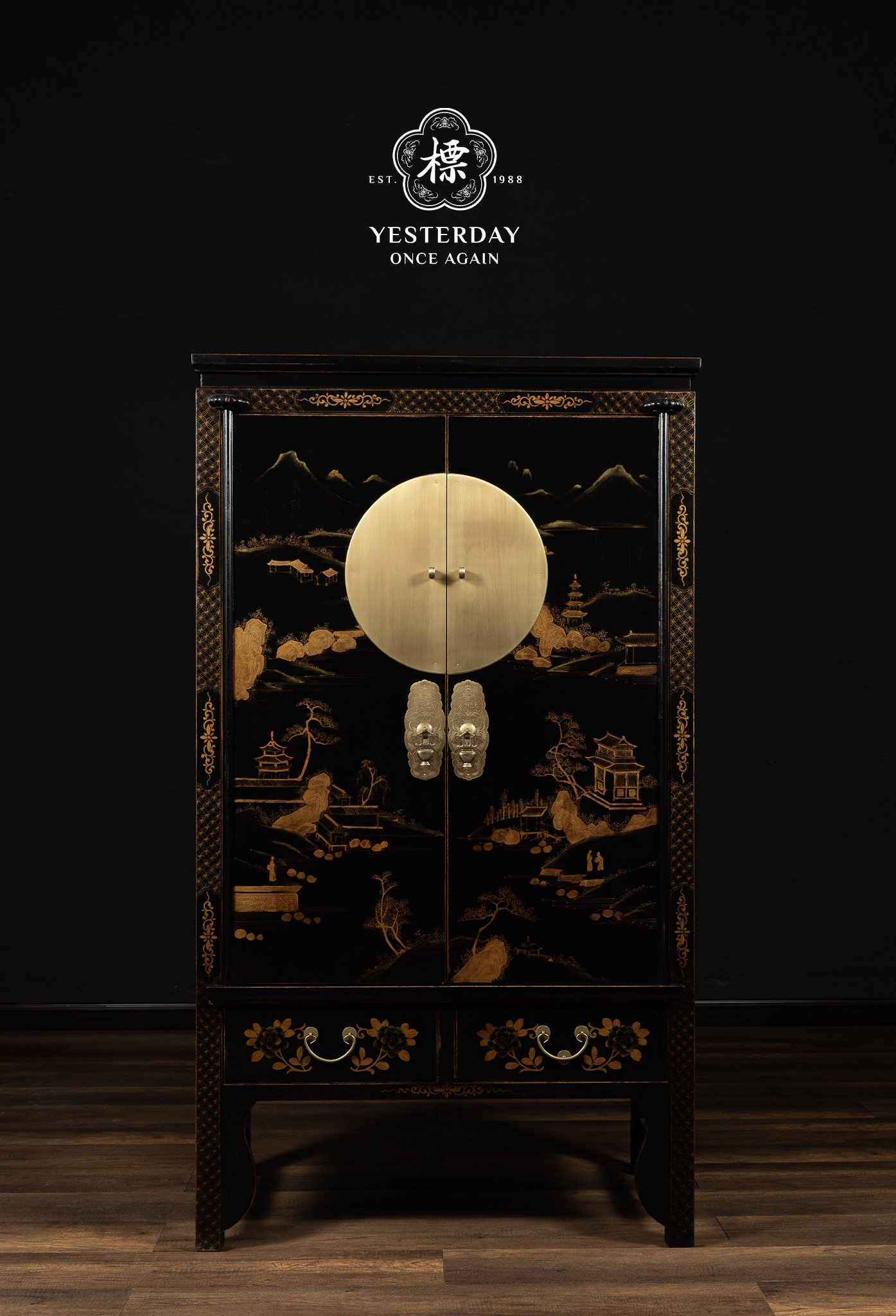 YOA recommends: with such an eye-catching ornamental medallion, the piece would easily and instantly draw anyone's attention to it.
So these cabinets would be perfect for your living room where they can fully be on display, or you can place them in your bedroom for storing clothes, accessories, books, or any stuff you want. The style sure exudes extreme oriental vibes, so we recommend placing some other similar pieces or tones for a nice combination.
2. Kitchen Cabinets: or厨柜chú guì can generally be recognized from the lattice work that allows air circulation in order to keep the fresh produce inside. The more traditional, typical style of Chinese kitchen cabinets would see lower compartments decorated with vertical wood slats with spaces in between.
The style looks similar to chicken coops which then led to the southerners calling this kind of kitchen cabinet '鸡笼橱 jī lóng chú (chicken coop cabinet)'.
Meanwhile, the northerners call the style '气死猫qì sǐ māo (furious-to-death cat)' imagining the cat must be enraged to be able to see the food through wood slats, but unable to touch it!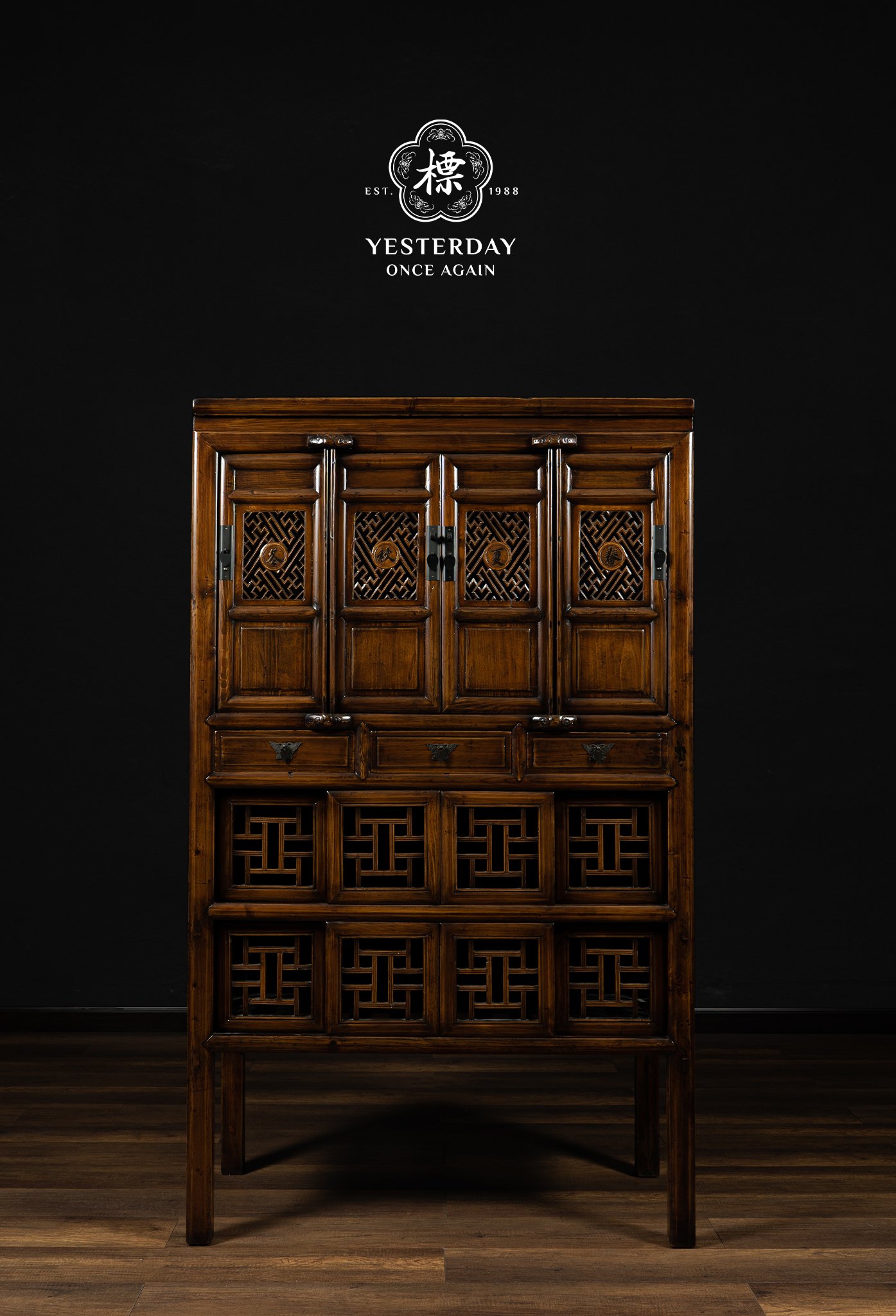 YOA recommends: now that we all use refrigerators to store fresh food these days, the piece would better suit storing kitchenware and utensils in general. Otherwise you can place it in your bedroom or hallway to store bed linens, mattress covers, spare pillows & pillowcases, spare towels and slippers, etc. Bookshelf is a possible choice as long as your dust and humidity situations are under control.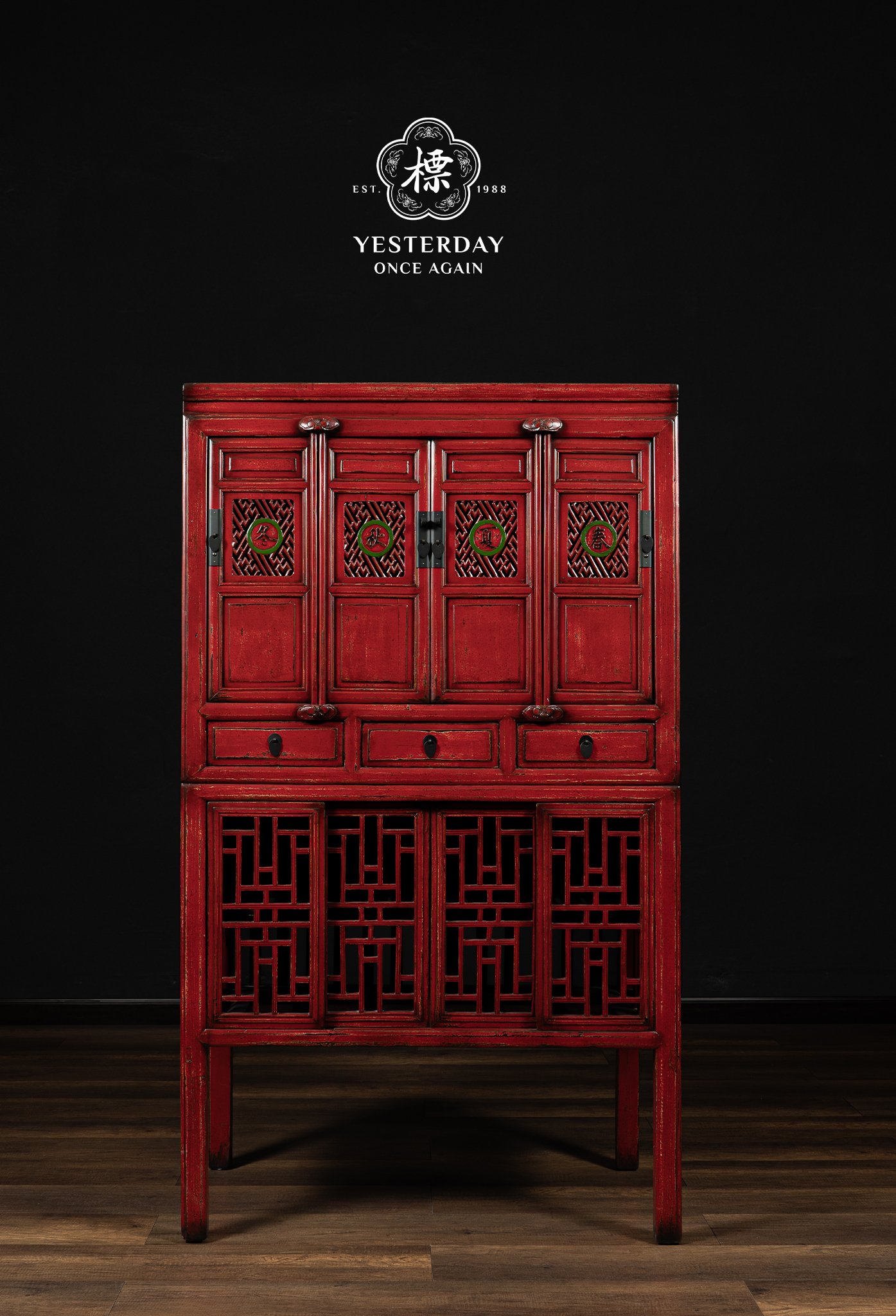 3. Altar tables: or the ones with drawers can also be called altar coffers (闷户橱mèn hù chú). In the past, altar coffer was a particularly significant part of a bride's dowry. Their drawers would typically come with locks so the bride could use them to store her own possessions after moving into her husband's house. As an altar, the flat surface was used for placing joss stick holders, candles, and offerings like fruits for ancestor worship.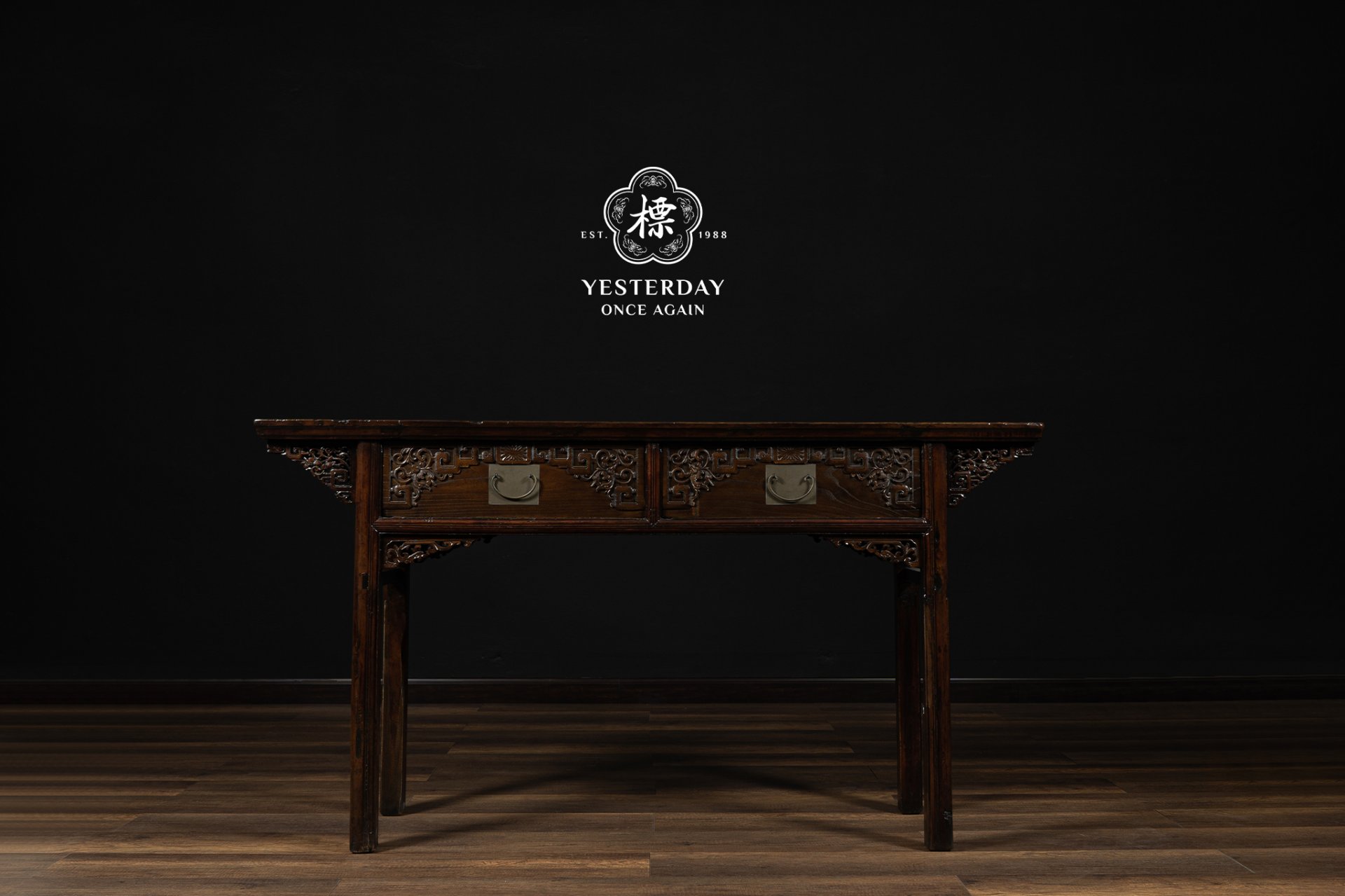 YOA recommends: altar tables can be placed in your hallway or living room as a centerpiece and you can be creative with what to put on the surface or above it: aroma candles, framed photos, small memorabilia, etc. In your bedroom, you can place a TV set over an altar table, or with a proper mirror you can even create a spacey vanity station of your own. Ultimately, if you do practice some kinds of worship, there's plenty of space so just go ahead with it!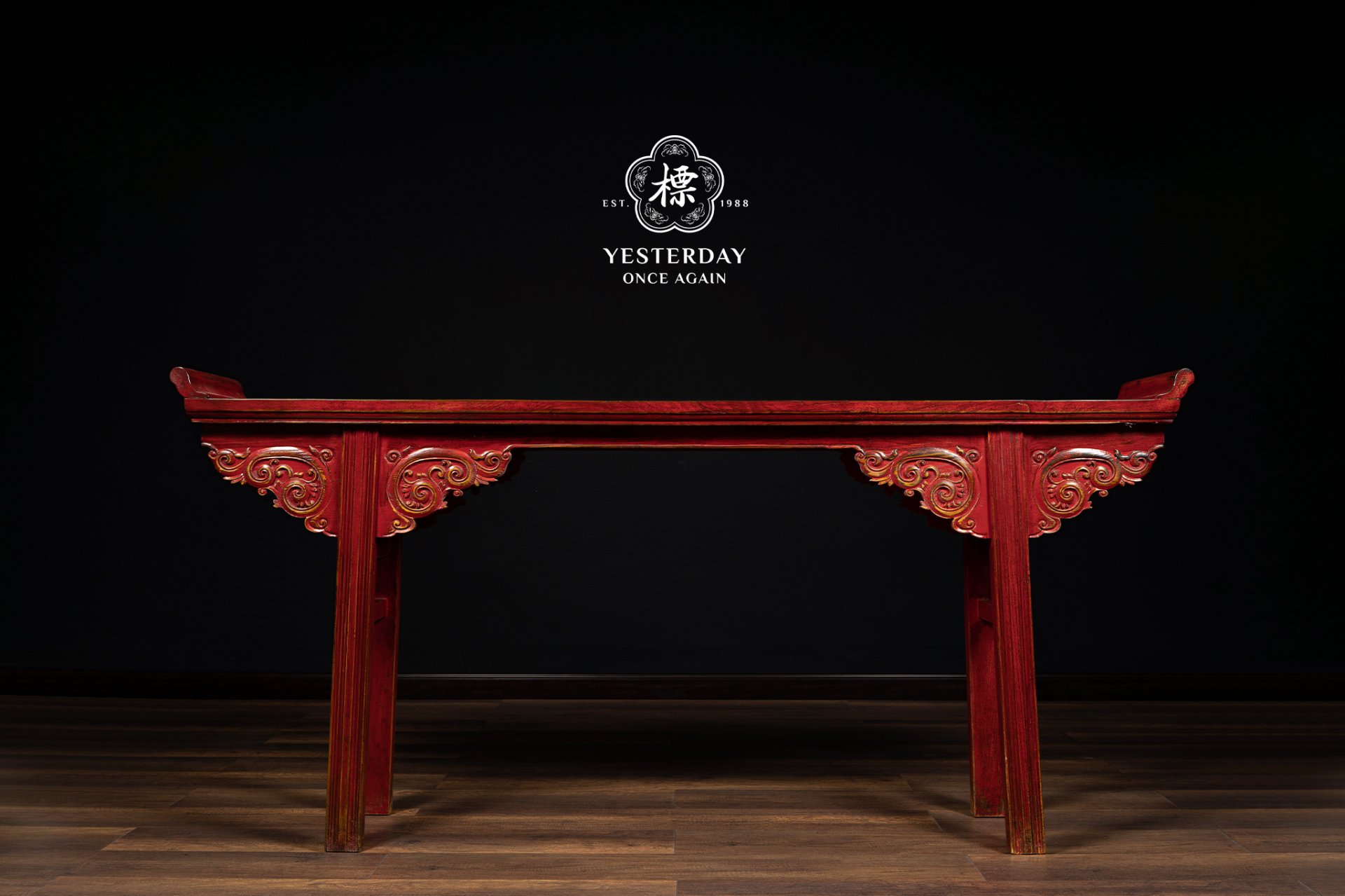 4. Sideboard Cabinets: this kind of cabinet was referred to as the Ming-Qing style. However, there seems to be no specifically assigned usage as they can be used for storing almost everything. Yet the more obvious function for these sideboards is probably decoration.
Their panel doors are often elaborately painted with auspicious motifs like peonies, begonia, and butterflies, as well as depicted a landscape (shanshui) or domestic scenes. Sometimes hinge and handle's metalwork can be created into symbolic animal motifs like bats – a symbol for happiness.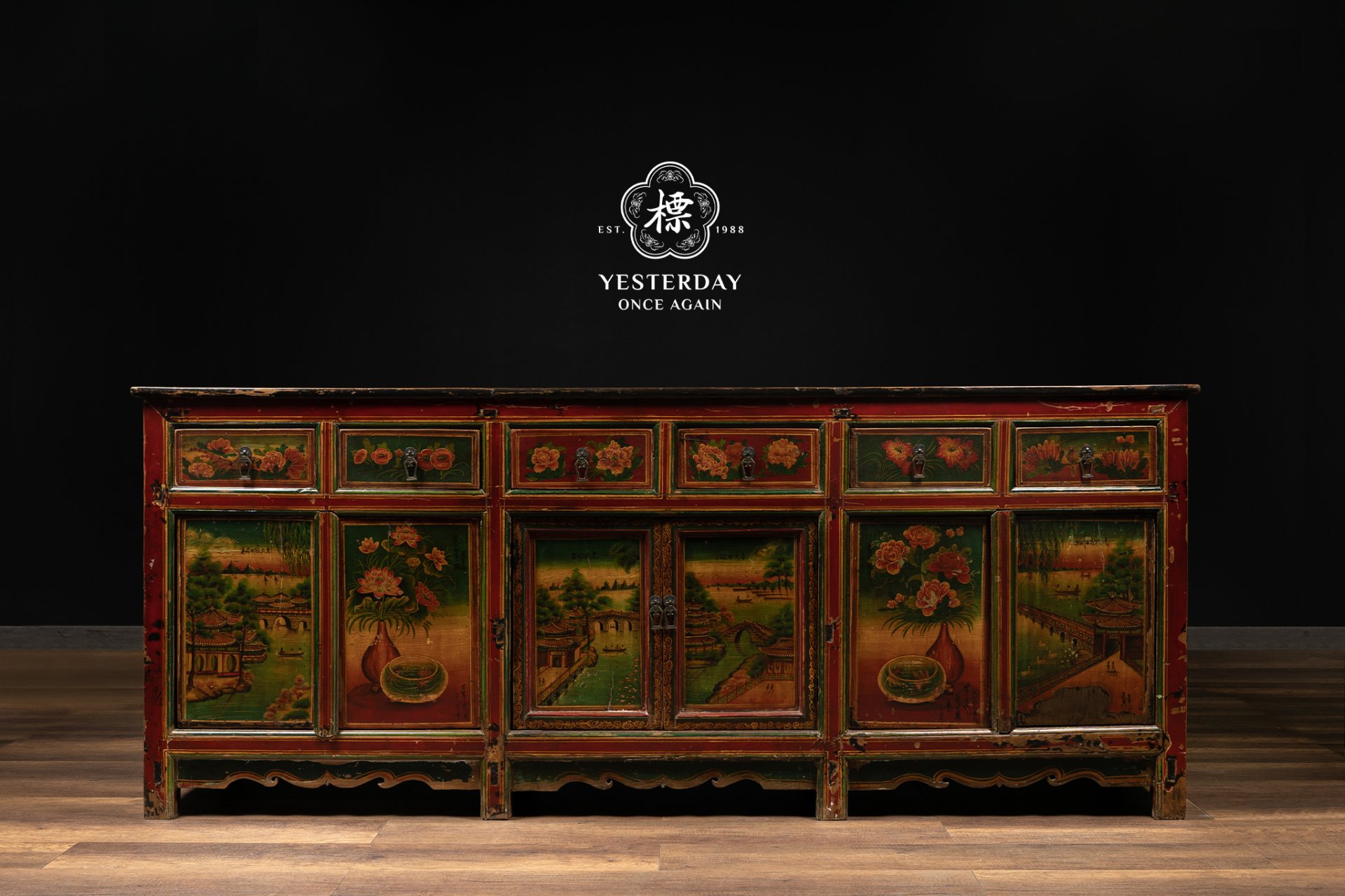 YOA recommends: this one is rather versatile: you can place it against a wall, put a TV set on top, and make an entertainment station in your living room as per tradition, or you can place it in the middle of a room as a divider. Otherwise sideboards can also be placed in hallways next to your door while the lower compartments can be used for storing shoes.




At Yesterday Once Again, we always appreciate the fact that our trade allows us to see, sense, and create something aesthetically pleasing every day, as well as having a chance to share such beauties to you either through selling or talking about them.
We hope that the idea of furnishing and decorating your home would at least bring some inspiring and delightful thoughts to you during this trying time.