(photo credit: www.ddhhw.com/zh-cn/yanghuazhishi/shinei/9918.html)
As China has formally entered autumn, our Yesterday Once Again team can't help but missing our trip's splendid scene of yellow gingko trees and autumn food like roasted chestnuts on crisp afternoons in China.


In contrast to Thailand's almost perpetual summer, such obvious signs of changing season allow us to see why Chinese people appreciate and incorporate nature into their arts, which often translates to furniture and decorative designs that we love!


In this month's article, we would like to focus on some of the most popular plants and flowers that often make appearances in Chinese painting and decoration.

Peony (牡丹 mǔ dān): the 'unofficial national flower of China', peony is the darling flower of Chinese people and one of the classical subjects in traditional paintings and even clothing. Best loved since the ancient time, it symbolizes most of all the feminine beauty, as well as love & affection, good reputation, and aristocracy & prosperity.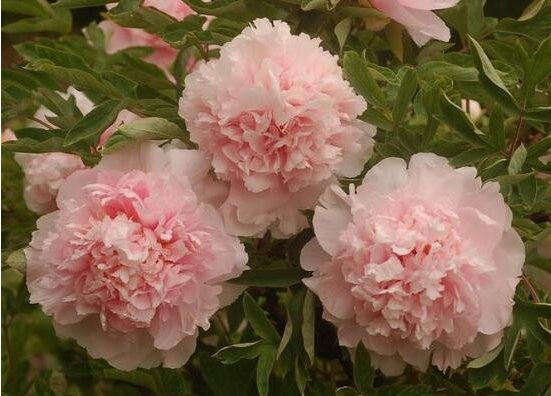 (photo credit: www.facaishur.com/mudanhua/1462.html)
For our
Yesterday Once Again
team, the peony design is just delightful. Their delicate petals often help showcase the skilled craftsmanship whether through painting or carving. With the traditional color choices of red, pink, and white, for us this is such a staple palette for Chinese art which sure adds to the oriental ambience.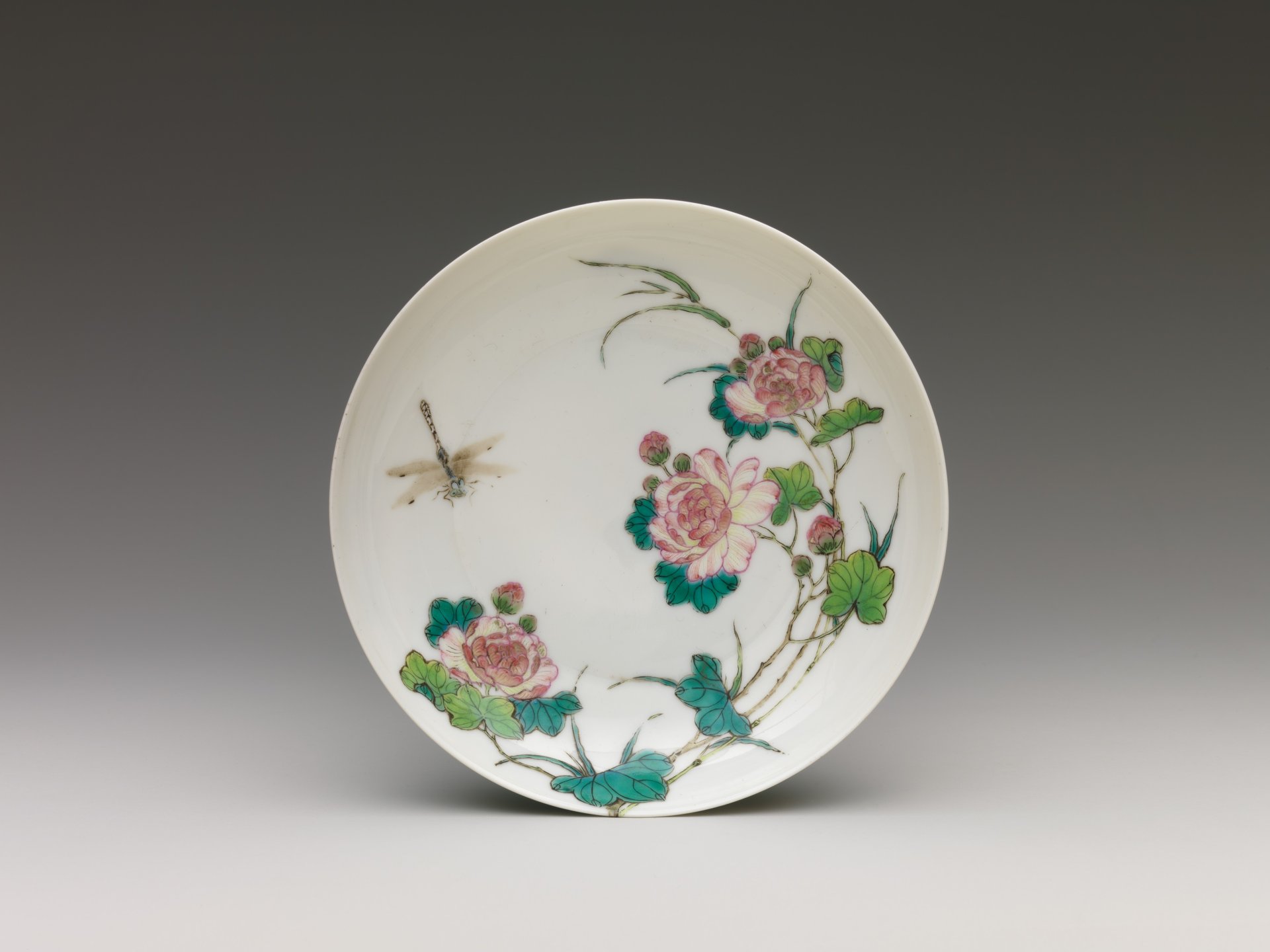 Dish with Peonies and Dragonfly 18th century during the reign of the Yongzheng Emperor
(photo credit: www.metmuseum.org/art/collection/search/42318)
Persimmon (柿 shì):
easily one of our favorite motifs with its lively orange color! Persimmon's name in Chinese is a near-homophone to the word
'事'
– matter or business, and of course the Chinese love on puns just couldn't let this one waste. Two persimmons is a pun on
事事,
indicating a wish for all undertakings to smoothly. When combined with oranges (橙), they are meant as a blessing of
'成事 - have success in whatever you do'.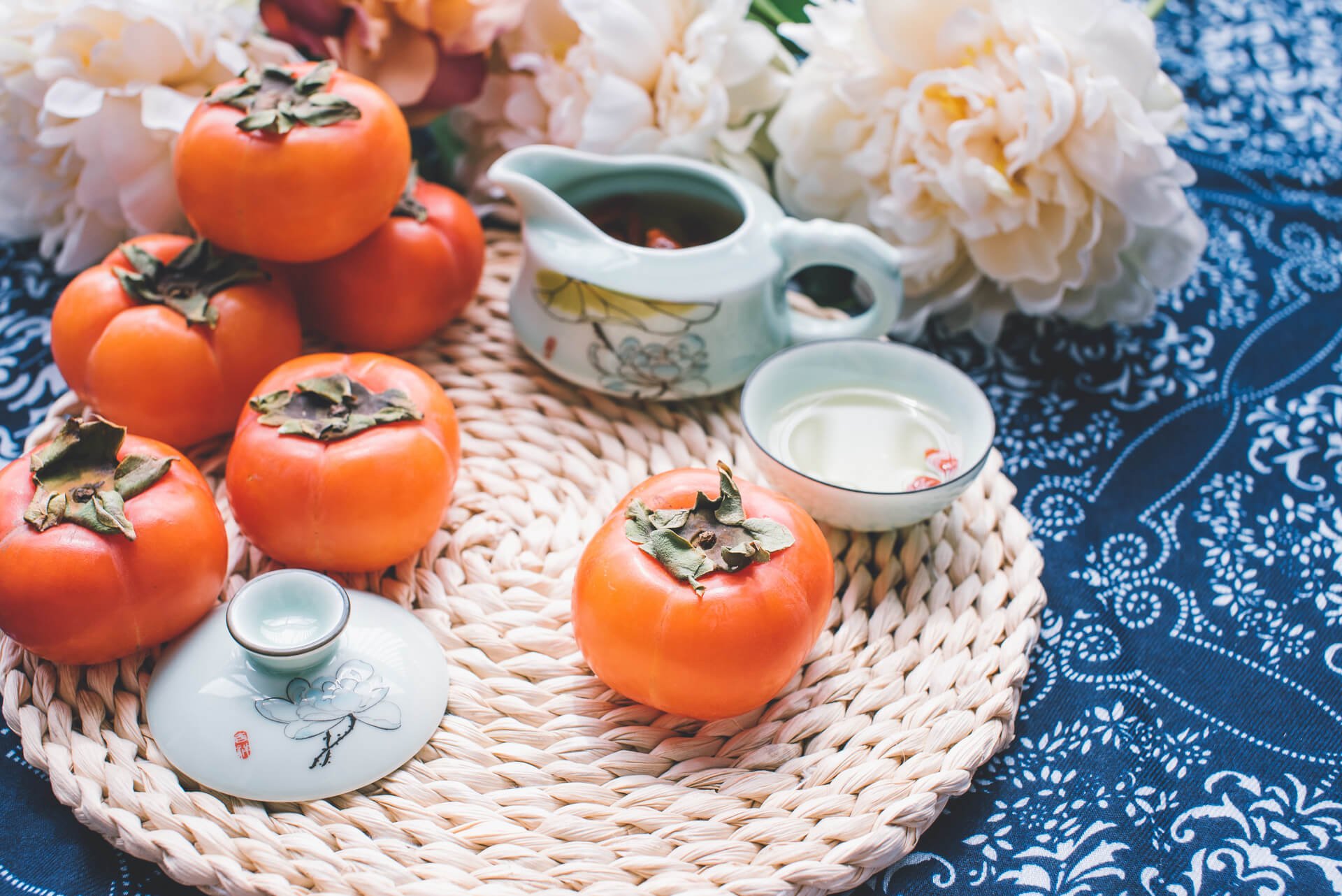 (photo credit: www.yebkg.com/zh-hk/yingyangshipu/yinshichangshi/9266.html)

Persimmons are ripe and believed to be most tasty around the end of autumn, and it is a folk custom to eat them during this period to help resist cold weather and keep the body dehydrated. With an auspicious sound and a bright, beautiful color, persimmon is already used for both consumption and decoration in typical household. No wonder it's also been depicted in traditional art since the ancient time!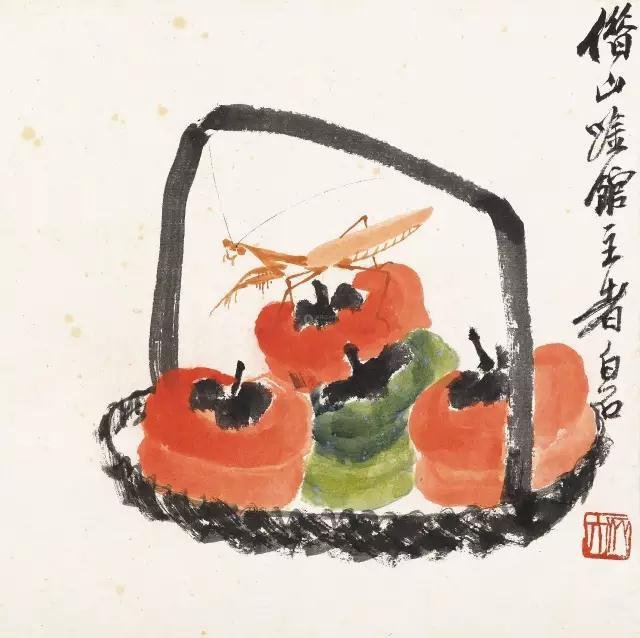 Chinese Painter Qi Baishi's 《柿子螳螂》 'Persimmons and Mantis'
(photo credit: shenbijiang.com/channel-news-detail.asp?m=1407&n=6&v=2)

Pomegranate (石榴 shí liu): though not native, this jewel-like fruit was brought to China through the Silk Road since over 2000 years ago! The plant also has some Buddhist connotations, and there is still a custom of sprinkle water with a sprig of pomegranate leaves to ward off evil spirits.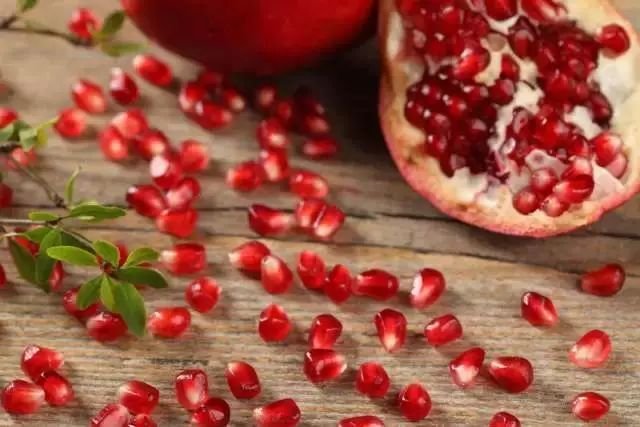 (photo credit: https://www.sohu.com/a/201011293_245358)

When cut open, you are greeted with numerous seeds inside. The word for seed in Chinese is '籽', a homophone with '子 - child', as such the Chinese relate pomegranate to abundance, fertility, and having many children (apparently a blessing in ancient time). As a result, pomegranate is a very popular motif for wedding presents.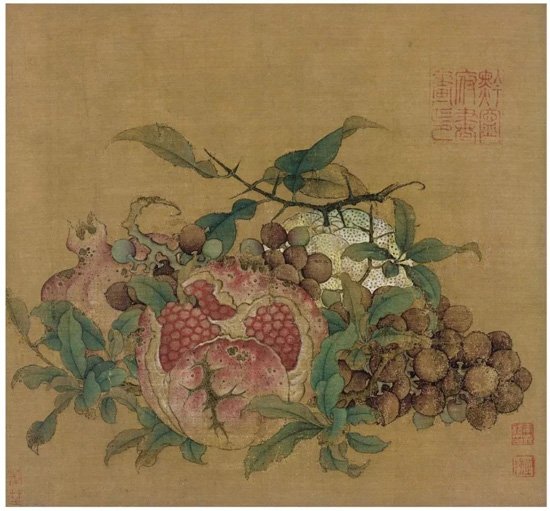 Lu Zonggui's《吉祥多子图》(Auspicious Abundant Offspring), Southern Song Dynasty
(photo credit: www.xinhuanet.com/shuhua/2020-08/12/c_1126352617.htm)

Willow (柳 liǔ): while mostly associated with sorrow in the Western culture, willow in Chinese culture symbolized with the arrival of spring. Its graceful form can sometimes represent femininity. In terms of traditional painting, willow tree is typically included in both natural and domestic scenes, almost like an indispensable element of Chinese scenery.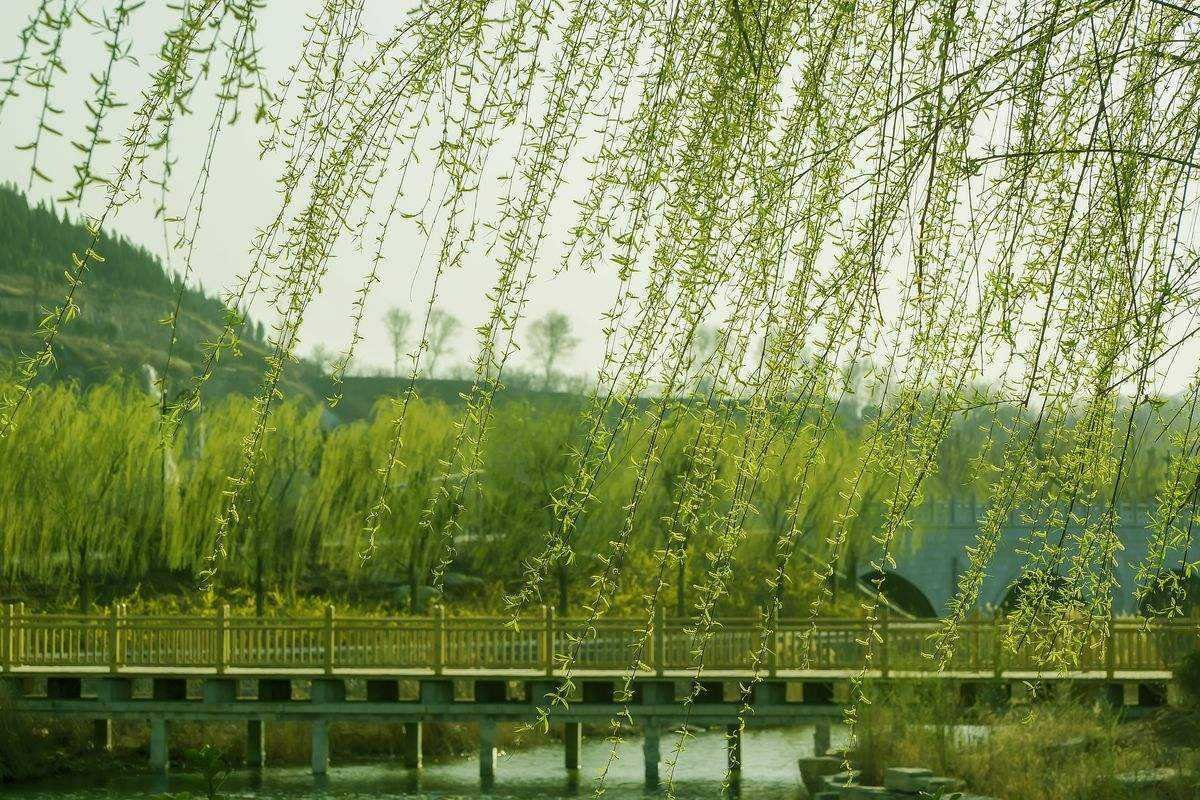 (photo credit: www.sohu.com/a/300699535_120005162)
For chinoiserie enthusiasts, what may also spring to mind is the "willow pattern": a popular ceramic ware's pattern around 19th century Britain, depicting an idyllic scene of somewhere purported to be China. Though the pattern was actually originated in Britain, we can also see how willow is used as a representative element of Orientalism.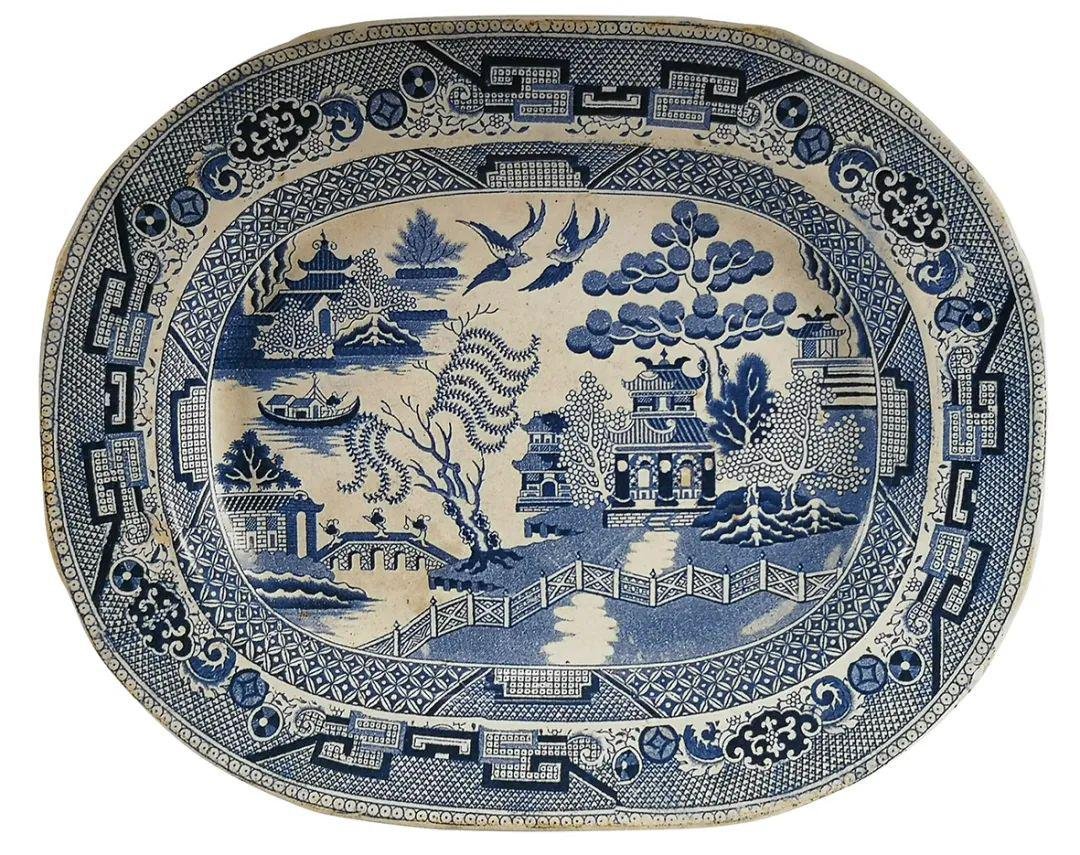 The British 'Blue Willow' Kitchenware
(photo credit: www.sohu.com/a/393346404_652775)

Another thing we love about willow is that it is commonly used as a material for making household tools. Yesterday Once Again has stocked some willow grain baskets in the past and they are sure beautiful!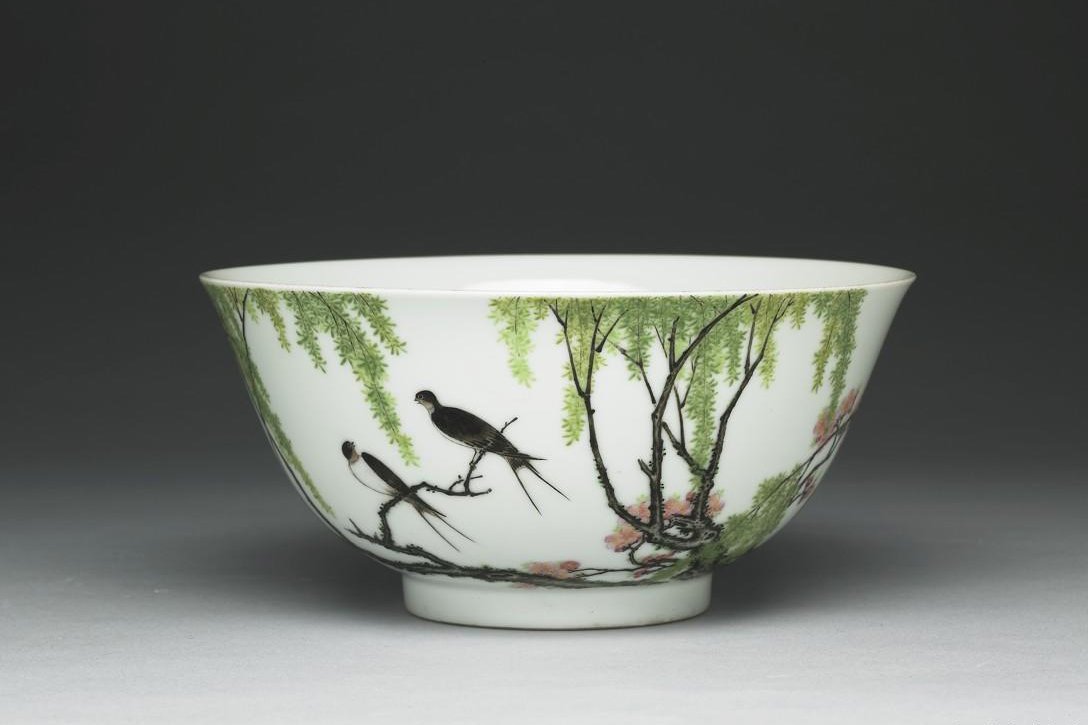 Bowl with Willow and Swallow in Painted Enamels
(photo credit: www.comuseum.com/arts/qing-yongzheng-bowl-with-willow-and-swallow-in-painted-enamel)

The subject of nature is one of the long-standing themes in the history of Chinese painting and decoration. Working and being surrounded with such age-old tradition, the Yesterday Once Again team appreciates the fact that we are enjoying the designs inspired by nature just like people from thousands of years ago. And we hope this article can share such lovely sentiment to our readers too!