Gearing up for Chinese New Year Celebration!


The Chinese New Year, or more authentically the Spring Festival (春节Chūn Jié), is around the corner and it's the Ox Year! For 2021, the New Year Day falls upon 12th February but the Chinese would celebrate a little earlier than that. Here are some simple celebratory practices Chinese people and Chinese overseas all over the world have embraced for generations that may inspire your own version of CNY celebration!


1. RED everywhere: you may (definitely) notice that anything associated with Chinese culture is prone to be in red; the reason simply being the colour epitomizes happiness, success, good fortune, strength & virility, and generally all the good things in Chinese culture. Red is traditionally used in all auspicious occasions such as weddings and all kind of celebrations.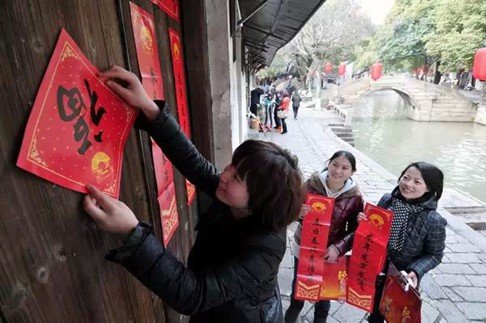 (photo credit: blog.sina.com.cn/s/blog_c11056b50102zn4h.html)


As for the Chinese New Year, red decorations are simply a no-brainer practice for the occasion. Chinese people would put up red paper signs, couplets, and lanterns on their house entrances. The most popular ornament is of course the character 福 (fú; 'happiness' or 'blessings') on a red diamond-shaped paper. The character is traditionally fixed upside down as a pun to signify the arrival of happiness and prosperity of the coming year.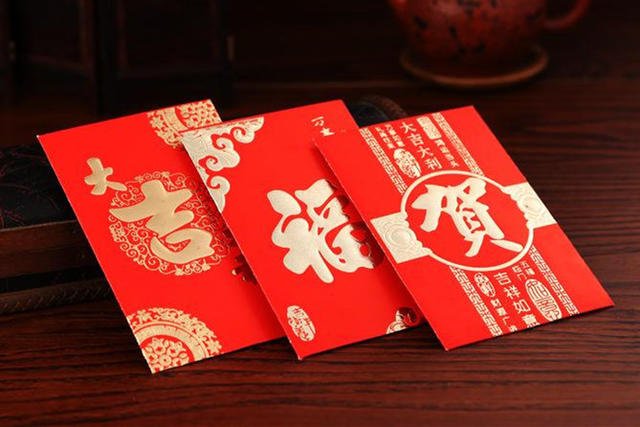 (photo credit: www.hunliji.com/bai_ke/detail_50098)

On a side note, the Red Envelope (红包hóngbāo) or a monetary gift is what most Chinese (children and adults alike) look forward to. As per tradition, the money is put in a red envelope in a specific amount corresponding to fortunate numbers in Chinese like 6 or 8, and given to junior members of the family. However, today more and more adults also give red envelope to each other and their familial seniors.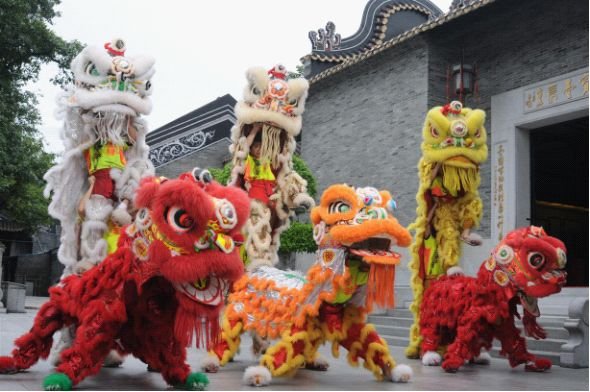 (photo credit: dfz.gd.gov.cn/sqyl/fwzwhyc/content/post_1109684.html)

2. Lion Dance & Firecrackers: all good and celebratory occasions in China wouldn't come to be without some cheerful noises! Lion in the Chinese culture represent courage, strength, and superiority. Though not a native animal to China, they entered the Chinese cultural scene through Buddhist beliefs thousands of years ago and remain closely associated to the act of guarding since. Lion dances, specifically, are performed to ward off evil spirits and bring good luck & happiness, and of course they're accompanied by a group of traditional musicians.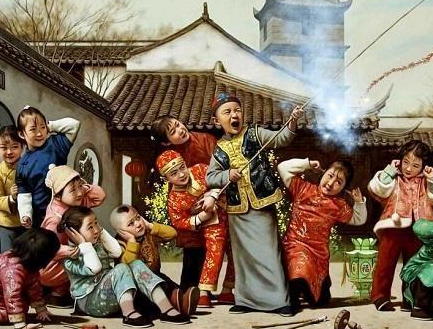 (photo credit: m.qulishi.com/article/202001/388957.html)

In the past, firecrackers used to be everywhere especially around CNY in China. Same as the lion dance, the explosive noise they made are believed to chase away evil spirits. If you happened to be in China about 10 years ago, you would find the 24-hour firecracker noises could accompany you as long as 2-4 weeks around CNY depending on the region you're in, as that's how long the celebration would take.
But in recent years, the practice of lighting firecrackers has become more limited due to the noise pollution as well as people especially in bigger cities tend to celebrate CNY in shorter terms. Traditionally, after the firecrackers all explode, the shredded red wrappers would be left around for a bit as cleaning them would mean wiping away good luck.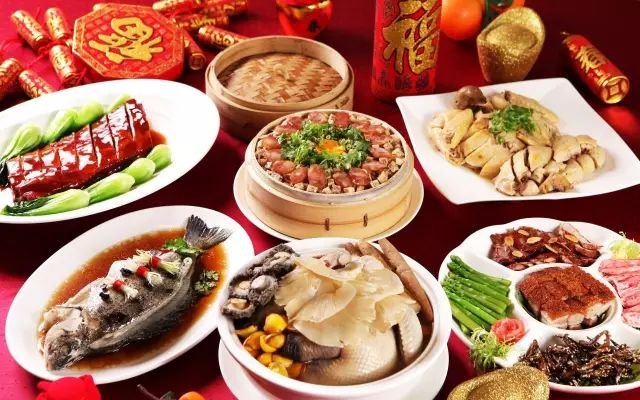 (photo credit: www.xinhuanet.com/local/2019-02/04/c_1124085192.htm)

3. Dumplings and Noodles and Fish and…: On New Year's Eve, families often gather to have a get together dinner (年夜饭nián yè fàn), normally the biggest annual feast of a Chinese family. The typical dishes for this meal often have names that are homophones with auspicious words or signify good meanings.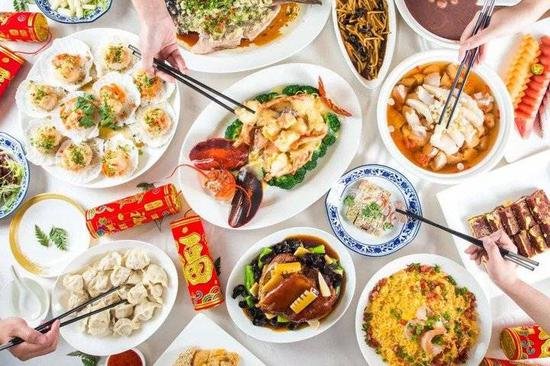 (photo credit: sd.sina.com.cn/news/2020-01-20/detail-iihnzahk5273036.shtml)

To name a few, dumplings symbolize the transition from the old to the new year and good relationships; noodles symbolize longevity; chicken meat symbolizes good luck; fish symbolizes abundance and excess of wealth; rice cakes symbolize advancement; oranges symbolize great fortune and prosperity; and apples symbolize peaceful and tranquil life. As someone of a Chinese descent, of course you'll have to eat all of these dishes, to ensure a prosperous and fortunate year! You can also tune in for the CCTV Spring Gala program (春晚Chūnwăn) for the authentic experience of Chinese New Year's Eve dinner.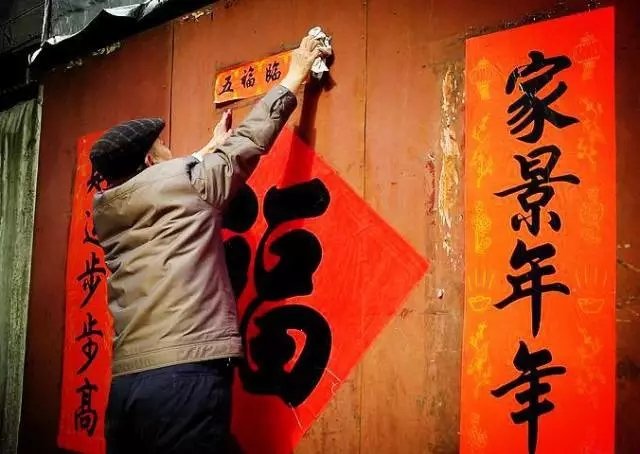 (photo credit: lztai.com/liyi/201901/2264.html)


4. Put on Some Couplets (对联duìlián) for Decoration: or to be specific, Spring Couplets (春联chūnlián) for this occasion are the two lines derived from poems each written vertically in black or golden ink on red paper and affixed on each side of an entrance, plus another one written horizontally and pasted above the door frame.
The selected verses are normally auspicious expressions that welcome and designate wishes for the New Year. In modern days, families and organizations turn to mass-produced, printed Spring Couplets for Spring Festival decorations as they're more convenience, but in rural areas you can still find the handwritten version.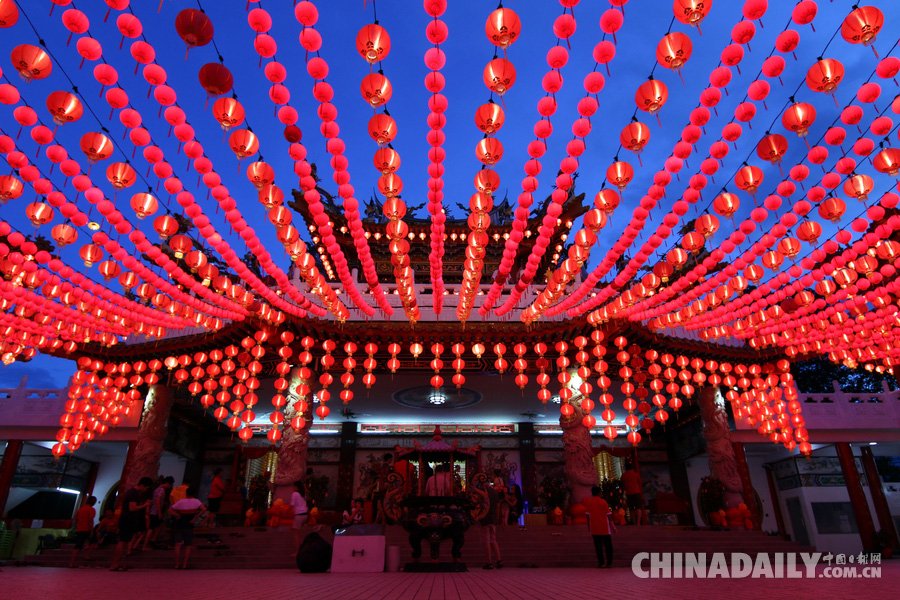 (photo credit: www.xinhuanet.com/overseas/2017-02/10/c_129474180.htm)


With Covid-19 still rampant out there, at the moment the Yesterday Once Again team wouldn't recommend eating out, shrine hopping, or browsing the Bangkok Chinatown just yet, since all celebrations are officially canceled anyway.
But we hope you can still have yourself a little Chinese New Year at home. We suggest online shopping for some clothes, since wearing new clothes around the New Year is one of a-must practice for Chinese – a perfect excuse to splurge a little.
Anyway, we look forward to a great and healthy year for us all, and wish you all a very Happy Chinese New Year! 新春快乐!